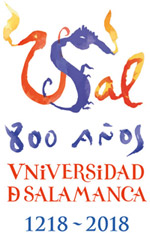 The University will be commemorating its eight hundred years of history throughout 2018.
This celebration has involved years of hard work and remarkable achievements, aimed at consolidating the prestige and international projection of the University of Salamanca.
The Spanish Government, following the recommendations made on 1 February 2008, has come to define the celebration of the Eight Centenary of the University of Salamanca as a national and international event, based on a collaborative effort carried out by the University and diverse institutions and other entities.